This is the story of a backpack. But not that of an ordinary backpack, because inside you will find many stories. Stories that tell us of craftsmanship, tradition, culture, know-how, and at the same time of research and contemporaneity.
'Mani Del Sud' backpack  by Raffaele Stella Brienza is a wonderful example of how to combine the excellent workmanship of the Italian tanning tradition with modern shapes and materials.
The use of different materials, like leather, PU and nylon, gives it a contemporary and sharp look but one can find also a touch of romance; the embroidered leaf cursor, now logo of the brand, stands on the outside backs bringing to mind the Italian manufacturing tradition.
The several internal and external pockets make it an essential tool for the modern man, not only to be able to have always with him, his work items, but also to be ready for a possible gala party; for this purpose was created the internal pocket where one can put the iconic 'Mani Del Sud' bowtie , without being afraid that it could be crumpled.
The different color alternatives make it always different, ranging from the all-black minimalist atmosphere, to more extroverted situation, sometimes given by an energetic electric blue, sometimes by a bold crimson red.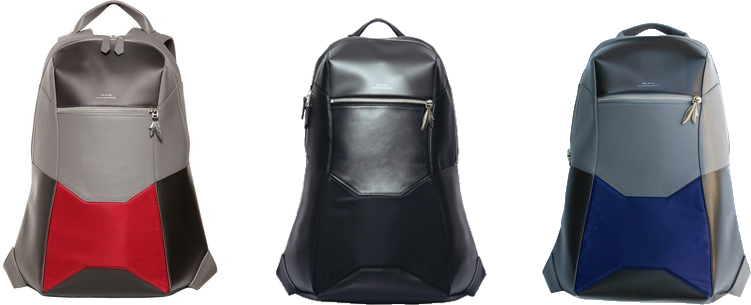 An accessory, therefore, that it is a must have useful for every occasion.
Life is a journey, so backpack on!
Description: Single Handle that starts from the shoulder straps; adjustable shoulder straps. On the top, metal zipper with double slider. On the front, metal zipper with institutional slider "Mani del Sud" with logo on the back and electroplating old silver. On the top, inside, the bowtie pocket in PU with leather straps and press buttons to stops the bowtie. On the external side pockets in PU. Inside the backpack one zip pocket and three open pockets fitting for mobile phone and PC.
Dimensions: Height 49 cm. Base 39 cm. Depth 15 cm.
Materials: Leather, PU, nylon, cotton lining.